NataliNice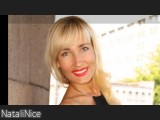 LIVE!
NataliNice
Age:
35
Last Online:
21/Mar/2019
Sex:
Female
Orientation:
Straight
Ethnic:
White/caucasian
Build:
Slim
Hair:
Blond
Hair Lenght:
Long
Eyes:
Green
Languages:
Special:
Schedule:
every day
Turns-Ons:
Turns me on excitement man and desire and do not be shy
Turns-Offs:
rude ppl
What you can expect from my show:
I'm a very unpredictable lady
Why I Am Here:
I am cheerful, sympathetic, friendly, fair, active woman. I have many Interests and hobbies: traveling, fitness, swimming, skiing. I am starting doctor and the calling of my life is to help people.